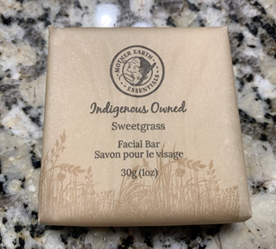 This section attempts to summarize how Quaaout Lodge has approached the promotion and marketing of their products and services. It also provides information on planned or anticipated necessary changes. Overall, the main focus for the lodge's message is the authentic Secwépemc culture. The lodge was built to share this culture; it is unique, and it is an experience. Factors that penetrate most marketing messages also include the amazing views, the artwork, and the pictographs.
For their promotional planning, the lodge uses a combination of employees and the help of tourism boards. Representatives of Quaaout Lodge are members of the Thompson Okanagan Tourism Association (TOTA), the Indigenous Tourism Association of Canada (ITAC), and work with Tourism Kamloops, Shuswap Tourism, Destination BC, the North Shuswap Chamber of Commerce, the Chase Chamber of Commerce, and Shuswap Arts. Members of the management team also travel to a variety of trade shows, such as wedding shows, industry conventions for tour companies, and the International Indigenous Tourism Conference (IITC).
Watch Video Clip 4: Clients and Market (Transcript Available) (CC BY-NC-ND 4.0):
Probably the most effective channel and approach to promote the lodge is word-of-mouth referrals. For example, previous wedding guests spread the word about their experiences, golfers may recommend the lodge for a retreat, or tour companies approach the lodge based on comments from their customers or other tour companies' social media channels. While this has worked extremely well, the lodge does not encourage referrals with incentives.
"We always hope that our guests' experiences are so wonderful that they share with the masses."
Significant effort goes into using social media for promoting packages. Facebook and Instagram are used to interact with past and future customers, going beyond just posting pictures and news. Twitter has also been used but not extensively. YouTube has not been utilized except for some recordings of the cultural activities.
Plans are to use Twitter more and possibly expand to using Pinterest as well. To facilitate this expansion, 2020 will see a dedicated employee for social media promotions. This should assist in substantially increasing the social following. The lodge also plans to incorporate more videos (e.g., of cooking or drum making) into their social media messages.
Past golf customers are kept up-to-date with a newsletter, and past food event participants are contacted about promotions. Improved communication with corporate customers is being worked on, such as explaining the options for cultural activities and team building with an Indigenous background. While the website has a section for corporate events, social media is mainly used to reach potential business customers, in addition to trade shows and word-of-mouth referrals from previous guests.
Currently, the general manager is also facilitating a website redesign, since the current website does not properly answer customers' questions about the experiences the lodge offers nor does it provide information about the recreational opportunities of the whole region. A web design company is working with the general manager to identify shortcomings and needs.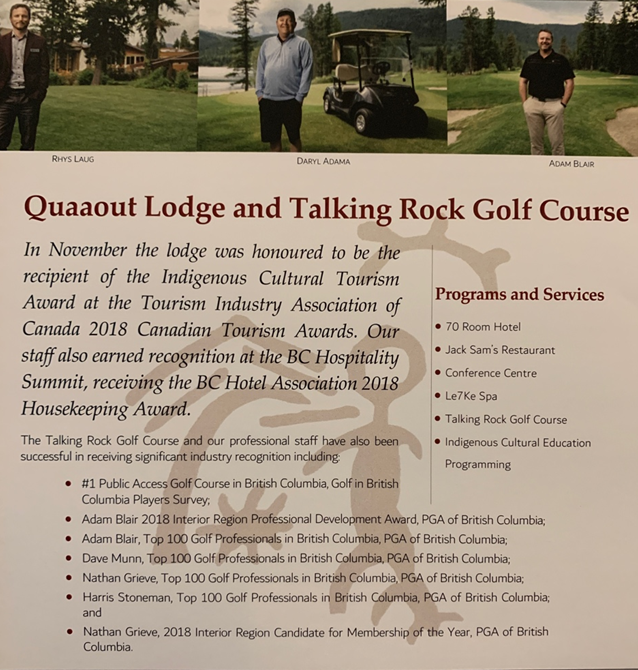 In addition to the previously discussed channels, posters are also used locally, especially within the Little Shuswap Indian Band. In 2019, some radio ads were used in Kamloops as well as newspaper advertising. However, it was found that social media provides much more value than radio or newspaper ads, even though reduced local newspaper advertising will continue.
Quaaout Lodge has created brochures that are taken to trade shows and wedding fairs. They can also be found in visitor centres around the province. However, since offerings such as food or spa services are seasonal, static media like brochures are not ideal.
On the highway alongside Chase, signs can be found facing both directions, including a reminder 10 kilometres before the turnoff. They feature a golf theme, and while "off the highway" traffic isn't significant, it does happen.
The success of this varied promotional approach is hard to measure. The general manager keeps track of Facebook and Snapchat metrics but also acknowledges that more effort is needed to analyze customer purchase history and spending habits to better target the marketing messages and spending. Testimonials from Tripadvisor, weddings, or other special events are read, collected, and responded to. There are feedback cards in the guest rooms as well. Many reservations are taken over the phone, and while visitors are asked where they heard about the lodge, consolidation and analysis of this information is difficult.
In the words of the general manager:
"Budget constraints limit our ability to really have a significant reach beyond our local region. [Finding] experienced marketers that know how to really speak to customers on a low budget is also a challenge, but we have begun the steps of training our current team."