Spirit of the Lake Native Boutique Case Study
50

Overview of the Business
History and Location
Tasha Mae Swite, the owner of SOTL, had the idea of starting her own business in 2017 while being employed locally in her hometown of West Kelowna.
I've always wanted to be an entrepreneur or own some kind of business, but I just didn't have or lacked the confidence to move forward into that.
She noticed that a local gallery—Turtle Island Native Gallery in downtown Kelowna—offered high-end art pieces but dealt with challenges such as parking and location. In this gallery, the prices ranged from $50 to $4,000 for carvings and other special items. After a robbery, they closed the store. Since then, there was a distinct demand for a gift store with authentic Native art, with only a limited selection offered at a local Native gas station.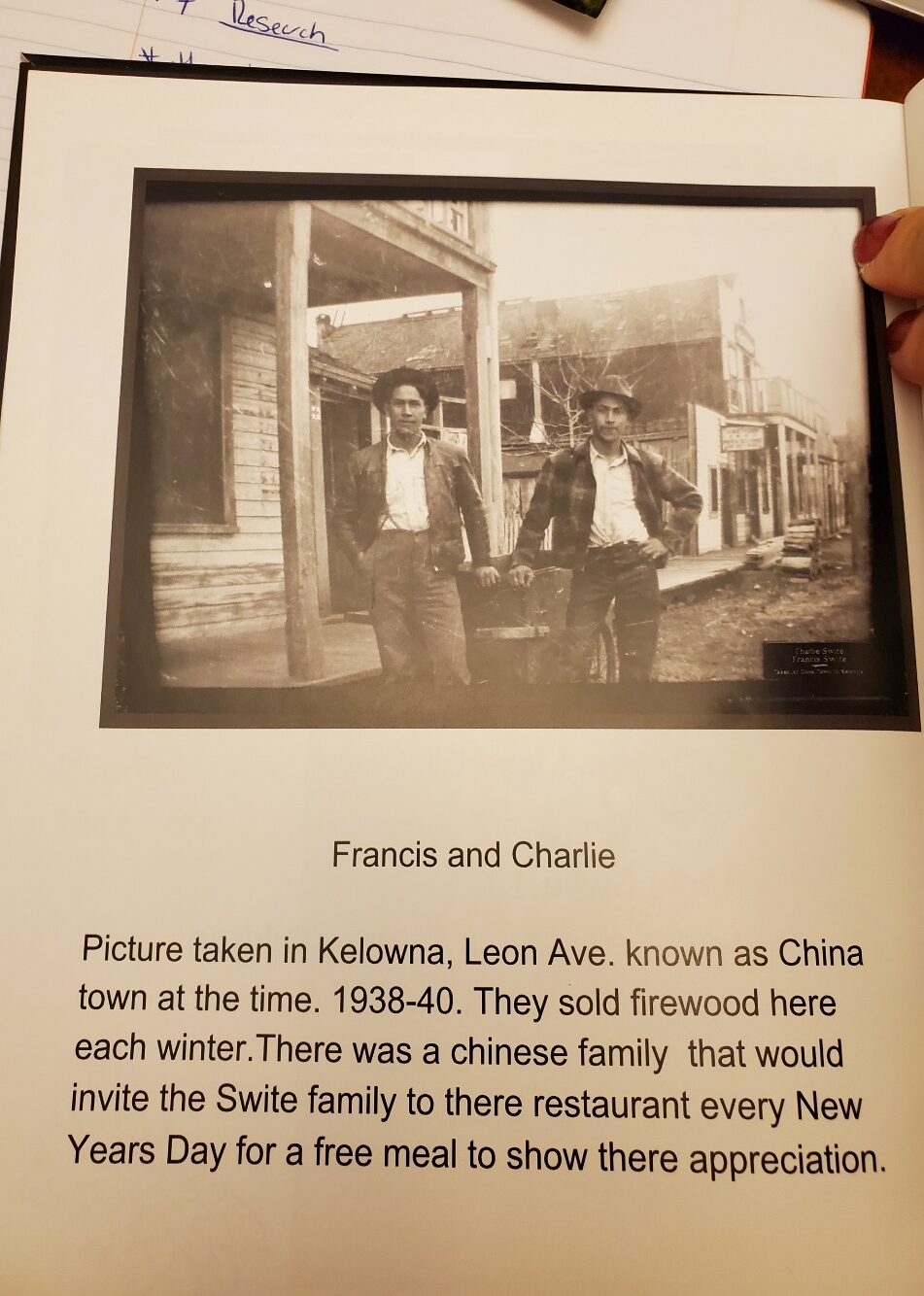 Tasha envisioned a store that provides higher-end gifts that are still affordable, creating a place that combines culture and support of Indigenous artists locally and nationwide. In opening her own store, Tasha, of Syilx-Okanagan and Assiniboine-Sioux heritage, is a fourth generation entrepreneur and the first female entrepreneur in the Swite family; her kids, already helping in her store, represent the fifth generation of entrepreneurs in the family. By including her children and bringing them to work, she is already instilling the vision in them that they can be whoever they want to be, that they can get involved in anything they want. Looking back into her family history, her grandfather and his brother operated a firewood business, cutting wood on the west side of the lake and hauling it via ferry to Chinatown in Kelowna, while her great-grandfather raised cattle and horses.
The current storefront used to be a fruit stand, which was going to be demolished. When she indicated to her father, who owns the property, that she was interested in using the space for her new business, he assisted her in applying for a grant which she received from ANTCO in the form of a First Citizen's Fund and through the New Relationship Trust. Based on her age, she still qualified as youth, and after a difficult wait of many months, she was awarded grant money to start her business.
You gotta hustle to make your business work.
Ultimately, it was September of 2019 when Tasha got the "green light" to proceed towards her dream of entrepreneurship, and after giving notice to her employer at the time, she dove into her new role head-first. Having a good support system helped Tasha, who is also a wife and mother, and the store opened in November of 2019, just in time for the Christmas rush.
My vision was […] start small and grow from there.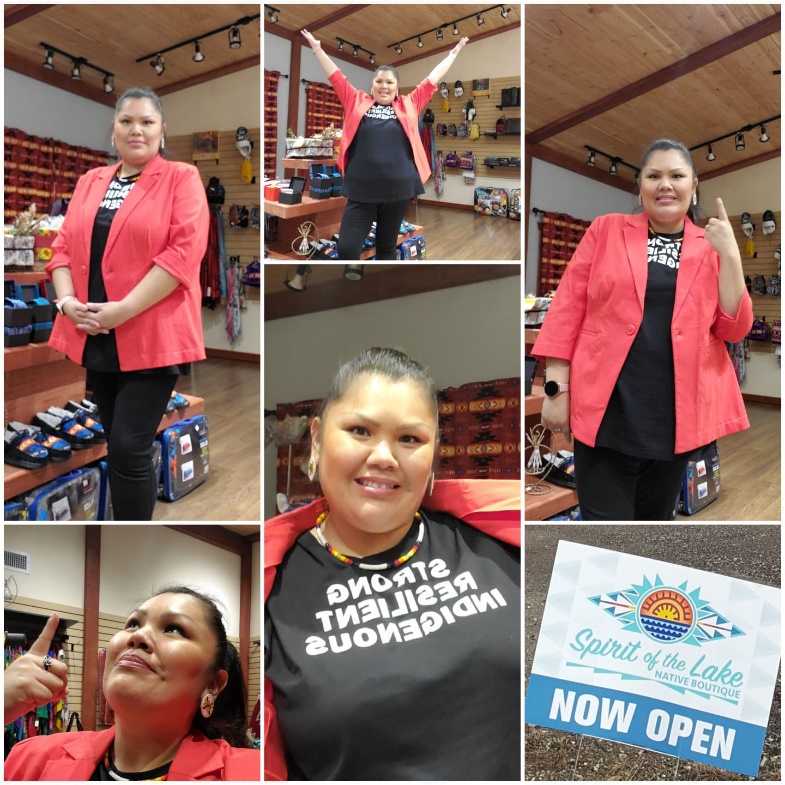 Not expecting the repercussions and restrictions of the COVID-19 pandemic, the business had a difficult start but managed to stay open through 2020. Given their products and location, it was a "grey zone" with regards to COVID rules. Their success continued through 2020, and the store did not even reduce business hours, instead adjusting processes to electronic transfers, local deliveries, and so on. Currently, the store is open 9am to 4pm from Tuesday to Friday, and 10am to 4pm on Saturday.
The name of the store—Spirit of the Lake Native Boutique—honours Ogopogo, which is nx̌aʔx̌ʔitkʷ in nsyilxcən, the spirit in Lake Okanagan. Discouraging the spirit's depiction as a cartoon character or monster, Tasha tries to bring back the name to its original meaning, being about the land and the water.
The logo she selected shows the Ogopogo pictograph in the centre, resembling an orange sun, with the water below. The Aztec triangle design in the back represents Tasha's Assiniboine heritage.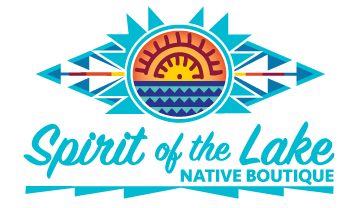 Tasha's store is located at 1960A Nancee Way in West Kelowna. It takes about 7 minutes to drive from downtown Kelowna. Located in a residential area that is not easily accessible from the highway, with the shopping centre on the other side of the highway, the building is also used by Tasha's father as office space for his businesses.
While not visible enough for foot traffic or spontaneous visits, Tasha enjoys the location, and customers have commented positively on it as well. Tasha mentioned that in the future, a more visible location closer to Westside road could increase traffic. Depending on the future development in her area, a move towards downtown West Kelowna could also be considered. However, being in the area where her great-great grandfather started his entrepreneurial life by looking after horses that were left by people taking the ferry to Kelowna, has a special meaning for her and the store.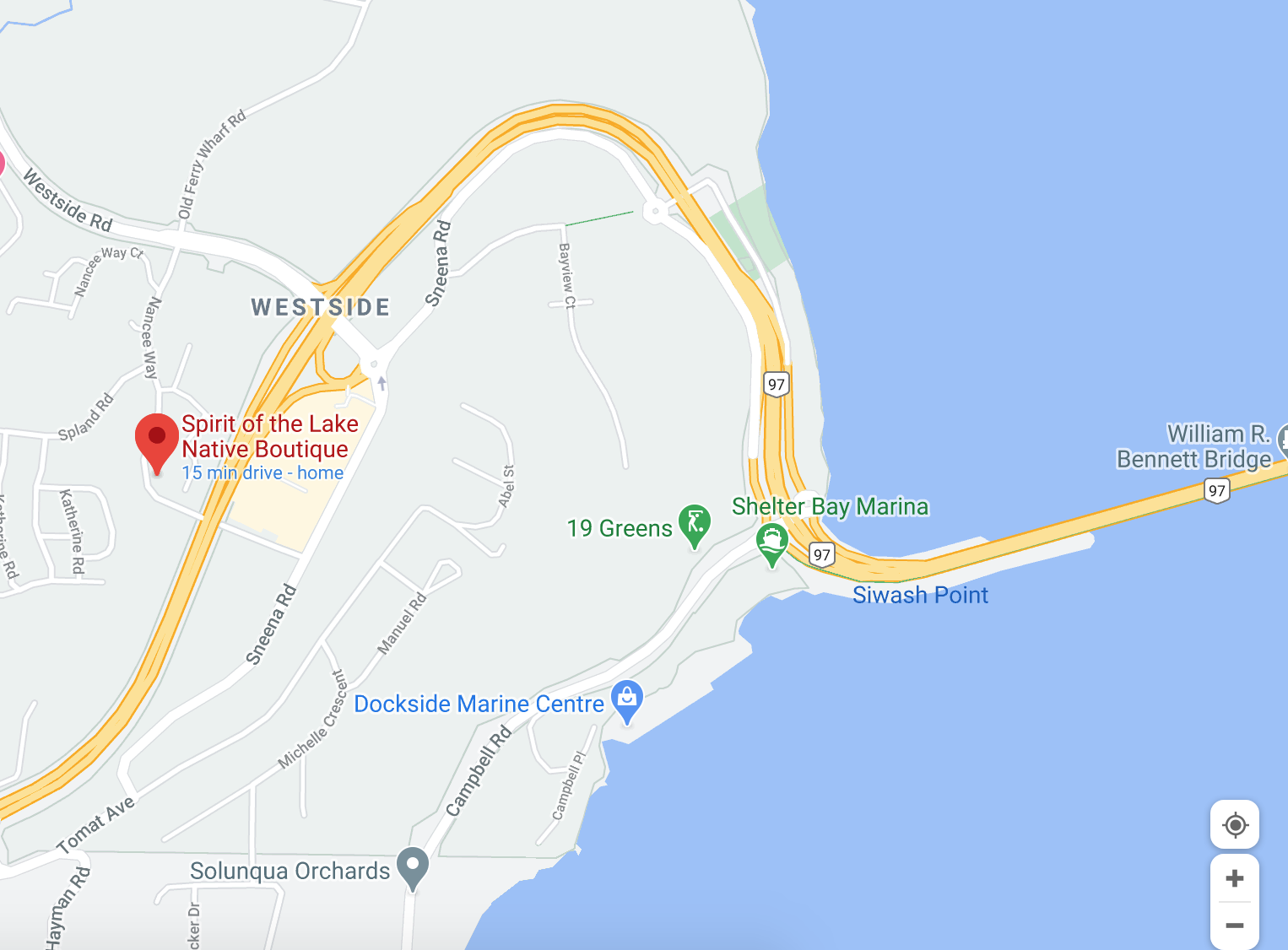 Employees
Tasha is the sole proprietor of SOTL, which is a 100% Indigenous-owned store. Initially, she planned on running the store on her own, made possible by having help with her family commitments. The woman she originally hired to provide beadwork became an employee after offering to help out and getting the business going. Now, Janie has been working there since the doors first opened and takes care of all the front-end operations, while Tasha manages the back-end.
In addition to Janie, Tasha hired two other employees. One started in March 2020, immediately before COVID became a concern, and Tasha felt strongly about giving her an opportunity and helping her get on her feet to gain some experience and confidence. In December 2020, because of uncertainly related to COVID, Tasha had to let this employee go but hopes to invite her back when sales pick up. Another employee was hired for a short time in December 2020 for social media work (see Marketing Approaches).
I almost see myself in her: timid, shy […], lack of confidence. That's who I was back 10 years ago, where I […] didn't want to talk, but I was willing to work and help.