Spirit of the Lake Native Boutique Case Study
The product assortment includes jewelry, beadwork (e.g., on key chains), pottery, blankets, moccasins, scarves, and other clothing. SOTL features local artists, such as elders from West Kelowna, and sources beadwork, ribbon skirts, and Native design pillows from those artists. According to Tasha, these items "flew out the door," especially when the local First Nations museum was closed and couldn't show these art pieces anymore during 2020. Another example of a local artist from Kamloops that SOTL is featuring is Louise Alphonse; she crafts drumsticks, drum bags, and moccasins.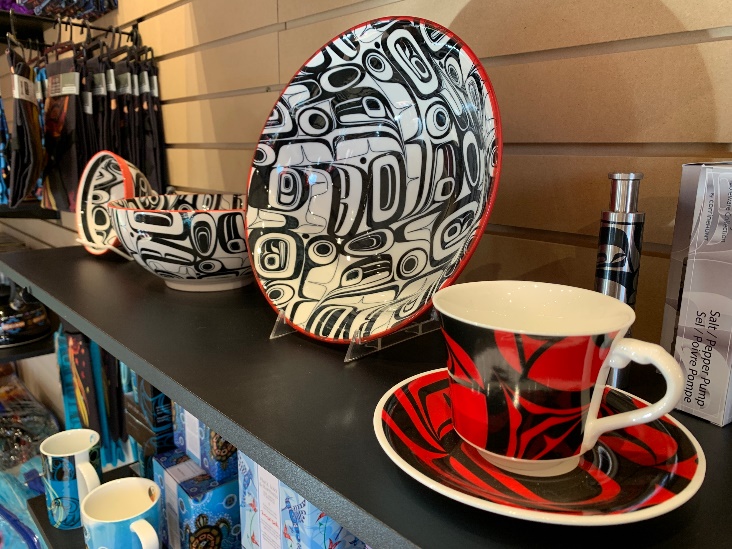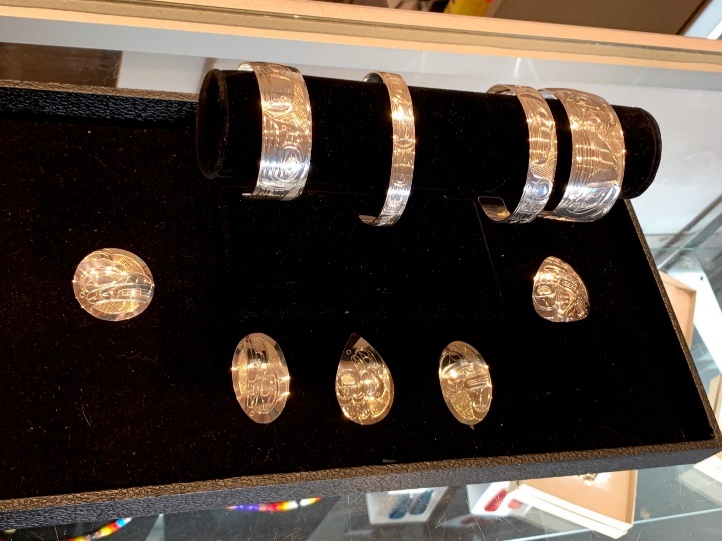 Tasha wanted to carry the Pendleton brand, offering blankets, baby blankets, towels, and so on. Ordering issues due to the pandemic meant that the inventory was greatly reduced, but what did come in sold very quickly. In the future, and when that brand's production resumes, a steady and organized supply of Pendleton products is anticipated.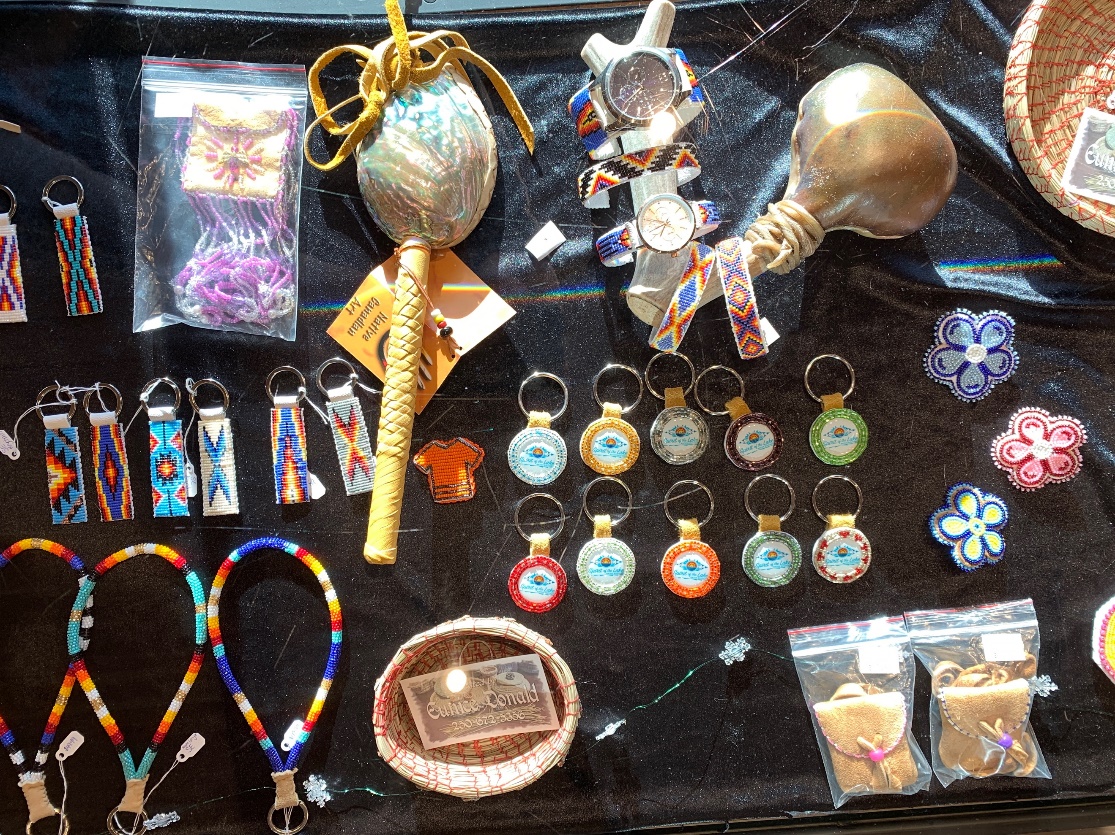 SOTL would like to carry Manitoba Mukluks, which are in high demand; so far, competitive restrictions prohibit Tasha selling the line. SOTL does stock moccasins from a vendor in Fort Nelson as well as the Oscardo brand and sterling silver from Vancouver Island by Reg Gladstone. Nu Trendz is another brand that Tasha has in stock. Based out of Edmonton, Nu Trendz sells Native-themed items; however, Tasha has plans to discontinue this line. She also sells Okanagan Select salmon products, both canned salmon and jerky, which have been popular as gifts and luxury food items.
My first round of salmon didn't go very well, but that was due to COVID. But this Christmas round, I had 48 cans. They're all gone. We just did a reorder of […] salmon jerky and canned salmon, the traditional with the bone in and the bone out.
In the beginning, Tasha would do a lot of research, finding providers of Native arts and gifts by calling or emailing them directly. There was a learning curve in finding out what works for her unique supply chain.
Watch Video Clip 1 – Reg Gladstone (Transcript Available) (CC BY-NC-ND 4.0):
Local vendors would stop at the store and offer their products for SOTL to purchase and sell, such as pine needle baskets, a baby bassinet, and so forth. Even if a sale wasn't guaranteed, Tasha considered these items to promote local culture and to serve as a "conversation starter." Even though some products offered at SOTL are made internationally, Tasha focuses on showcasing local Indigenous artists as much as she can. Well known local names and artists are featured and will continue to be a focal point for the store.
The SOTL store faces the issue that many of the more typical items and brands are available at Native gas stations. The plan is to get away from these "standard" products and be different, be distinct. So far, the store hasn't been able to offer high-end pieces, but Tasha plans to start selling higher-end items in the future, once the uncertainty of business operations during COVID times has eased.
A trend that Tasha noticed is the demand for homemade items, such as moccasins or wood carvings. She also commented that often, by default and with no shortage of artists within the Okanagan Nation, she becomes the liaison, linking artists to customers looking for a special custom piece (e.g., drum work, teepees, beadwork, jewelry, etc.).
Watch Video Clip 2 – Custom Orders (Transcript Available) (CC BY-NC-ND 4.0):
Considering the products and SOTL's location, the owner is planning to host another outdoor market in the parking lot, inviting other vendors and showcasing artwork from First Nations or non-First Nations artists. The first attempt of this happened in April 2020, when COVID restrictions were vague, and it was a success. For instance, an artist creating bird houses found exposure and customers. Tasha has a connection to a local Westbank First Nation (WFN) member who is also planning on starting a group to organize outdoor markets with vendors, artists, and possibly a food truck.
Overall, SOTL provides a great platform for local artists, and Tasha would like to expand her line of BC and Alberta Native art to covering Canadian Indigenous art from across the nation.
Watch Video Clip 3 – Expansion (Transcript Available) (CC BY-NC-ND 4.0):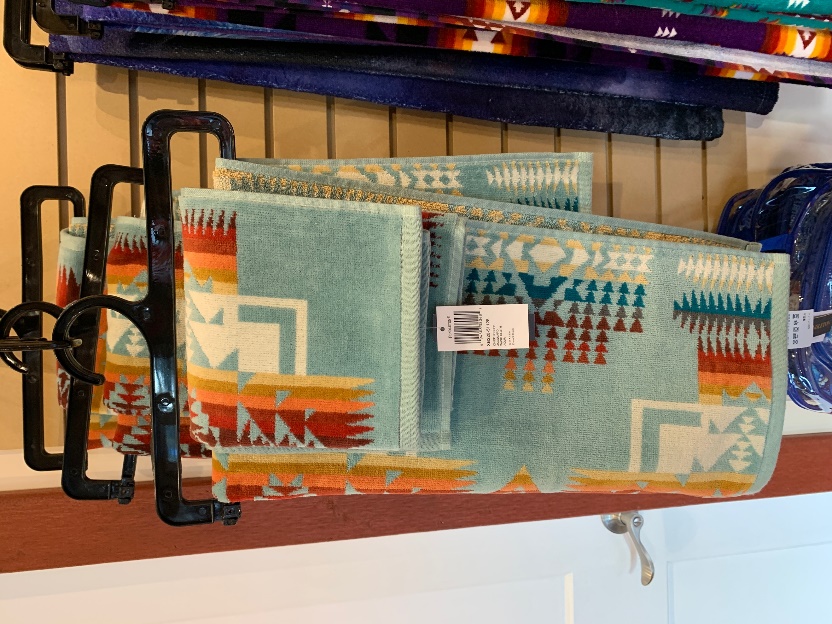 All employees also make sure to welcome customers to the store and make them feel comfortable, showing that they care. They let them smell their smudging ingredients, which always provides a conversation piece.
Tasha is open to sharing her heritage and culture with her customers. The only exception she makes is for her own beadwork and medicine. In the traditional Native community, medicine is not sold for profit. So, when she did agree to stock some sage and sweetgrass due to requests, she was open to a trading arrangement with a local elder instead of selling the medicine.