Be Inspired! Events and Event Planning (BIE) Case Study
40

Overview of the Business
Owner and Operator
Julie John owns and operates Be Inspired! Events and Event Planning. Julie is from the Little Shuswap Lake Indian Band, part of the Secwépemc Nation. Before starting her own business, Julie worked for the Secwépemc Health Caucus as an event planner and later went to school at TRU for event planning.
Watch Video Clip 1 – Rewards (Transcript Available) (CC BY-NC-ND 4.0):
As an Indigenous business owner, her work benefits from her cultural knowledge and awareness, as well as the established connections through family, relatives, and her local First Nations community. She credits her work at the Secwépemc Health Caucus among her most valuable learning experiences.
Most of my learning was done during my job at the Secwépemc Health Caucus, when I actually got put into that position and role of an event planner, and I remember when I started that job […], and at that time I was thinking I'm not an event planner. I don't know how to plan events.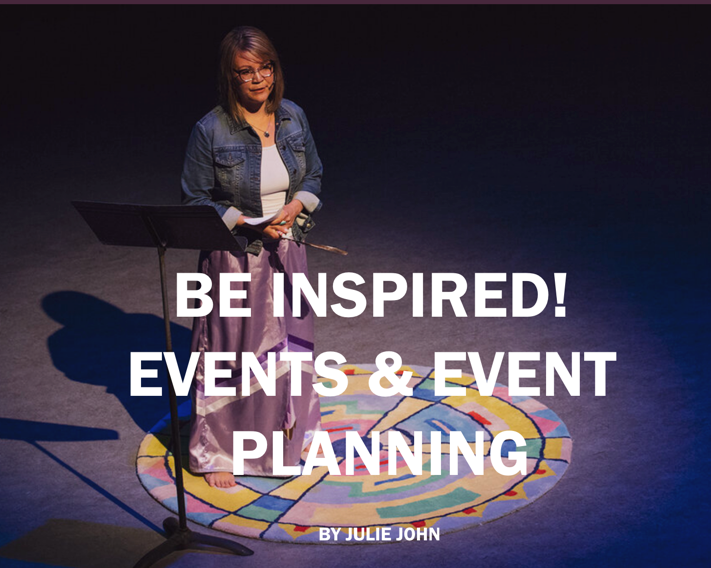 A coworker had seen her organize community events and had full confidence in her skills as an event planner. At the time, Julie was also doing regular fundraisers for her son's participation in hockey, making sure fees and travel expenses were paid for. Without really knowing it, she had developed event planning skills and felt more and more confident doing this as a job. Nevertheless, she calls it "a huge learning curve on that job," also realizing that networks and connections are critical.
Besides the work experience, her academic background influenced her to get the "business part" in order, to understand processes, and to learn how to run a business. It taught her the confidence that she could start her own business organizing events.
The biggest education is just life experience, more than anything.
Her studies resulted in accomplishing the following:
Events and Convention Management Diploma (TRU)
Bachelor of Tourism Management, Major in Entrepreneurship, Minor in Marketing (TRU)
Executive Master of Business Administration in Indigenous Business and Leadership (SFU)
History
Julie John came up with the idea and business plan for Be Inspired! while working on the Events and Convention Management Diploma at TRU. During her studies, BIE was still a side business, with a job here and there, providing extra income when needed. While studying for her Bachelor of Tourism Management, she actually operated a gift store, with the event planning still on the side. After finishing the EMBA at Simon Fraser University (SFU), the event planning business started to pick up; she got more and more contracts, and it turned into a full-time position.
She still stays in contact with other students from her studies, mostly with the Indigenous group at SFU. She calls on them to discuss ideas or share events, getting the word out. That degree also made the biggest difference in her learning, since the education was based on Indigenous experiences and with a context she can relate to. Currently, she uses that network at SFU more than the TRU network.
Going to school with students from across Canada, and hearing about what they were doing and the levels they're at, […] was so inspiring to me, to want to learn more, or to want to stay connected.
Julie's office is in Chase, BC, close to the lake and Quaaout Lodge. She has been operating this business since 2013. Before the COVID-19 pandemic, Julie hired a part-time employee who helped with the event planning workload, sometimes planning up to four events at the same time. During the COVID-19 pandemic, these events were cancelled, and the part-time employee had to be terminated. At the time of the interview in March, 2021, Julie started to pick up some contracts here and there as the light at the end of the COVID-19 tunnel was starting to be visible. Those contracts were mostly based on word-of-mouth referrals and came from organizations and companies she had worked with before.
The name for her business, Be Inspired!, originated from her previous job and her experience of invited speakers inspiring, uplifting, and empowering event participants. Julie appreciated that "inspired" feeling after a motivating talk, wanting to learn more and do better. Julie wanted to put on her own events that would be inspirational and rewarding.