Be Inspired! Events and Event Planning (BIE) Case Study
41

Event Planning Services
Originally, Julie thought she would be organizing mostly her own events, inviting guest speakers and selling tickets. However, the contracts from other organizations started to roll in and increased through word-of-mouth referrals. This put her idea of creating her own events on the backburner; the plans still exist, but the contract business keeps her busy. In addition, she now provides mentoring work, offering sessions with individuals who would like to learn more about action planning.
As part of a contract for event planning, Julie takes care of all aspects of the event—such as accommodations, speakers, catering, marketing materials, and so on—providing peace of mind for her clients. She uses her network to invite people and groups, connecting the event to the local communities. She is flexible to include what the organizers require.
I have been requested to do weddings, and, I'm like, no way! I would not touch a wedding. So, my passion is more for the conferences, the meetings. I can do trade shows—anyevent—anything but a wedding.
She has worked on family retreats, staff retreats, large conferences, smaller meetings, grassroots events, and more. She has planned the Squilax Pow Wow as well as other pow wows and festivals. She has brought in comedy shows for the community and kids' magician shows. At her previous job at the Health Caucus, the events she planned were often limited to particular First Nation members, instead of being open to everyone, mostly because there were restrictions on the funds used for the event. That means that large events, such as talks by Dr. Martin Brokenleg or Dr. Gabor Maté, were restricted to a particular audience, an aspect that Julie did not like. Her own events are all-inclusive, open to anybody who can benefit from them. Julie's events eventually included Dr. Maté, sessions for female entrepreneurs, and motivational speakers "who could uplift and inspire our people."
When companies organize their own events, they often run into staff or skill limitations. Hiring BIE means they do not have to worry or stress about it and can spend their time elsewhere. The fear is gone, and outsourcing it to BIE provides a huge relief. Julie reviews what these organizations want, considers the budget available, and determines how to fit it all into their financial plan.
Watch Video Clip 2 – No Stress (Transcript Available) (CC BY-NC-ND 4.0):
Julie has organized events of all sizes. A 3-day outdoor Secwépemc gathering a few years ago, for example, attracted 600 people. With no running water and no infrastructure, participants camped on the empty land, and a lot of services were improvised. It was a challenge, but Julie succeeded in coordinating a big group of people to make it happen.

The subcontractors, such as caterers, are preferably Indigenous businesses as well, as Julie likes to support other Indigenous entrepreneurs. If difficulties arise, Julie is quick to think of solutions and will not let that threaten the event. Quick thinking and problem solving are critical, as are backup plans and constant movement and adjustment.
In addition to planning events, Julie has facilitated action planning sessions as well as debt planning with a few clients. She is helping these clients overcome their fear of even looking at their credit report and understanding how they can approach debt situations. This work led to one of her goals for the future, to facilitate workshops around money and to help Indigenous entrepreneurs with the financial side of their businesses while sharing her own story.
Watch Video Clip 3 – Workshops (Transcript Available) (CC BY-NC-ND 4.0):
After operating out of her current small office for a long time, Julie has plans to move into a storefront location in Chase, BC. The space is currently being renovated by family members, including bringing in Indigenous art work. Besides office space for her event planning business, this location will also host My Sisters Closet, a professional clothing assistance program, and a small Indigenous entrepreneur co-op space. Julie is creating an Indigenous Entrepreneur Hub where entrepreneurs can come in and do their research using the space and the computers.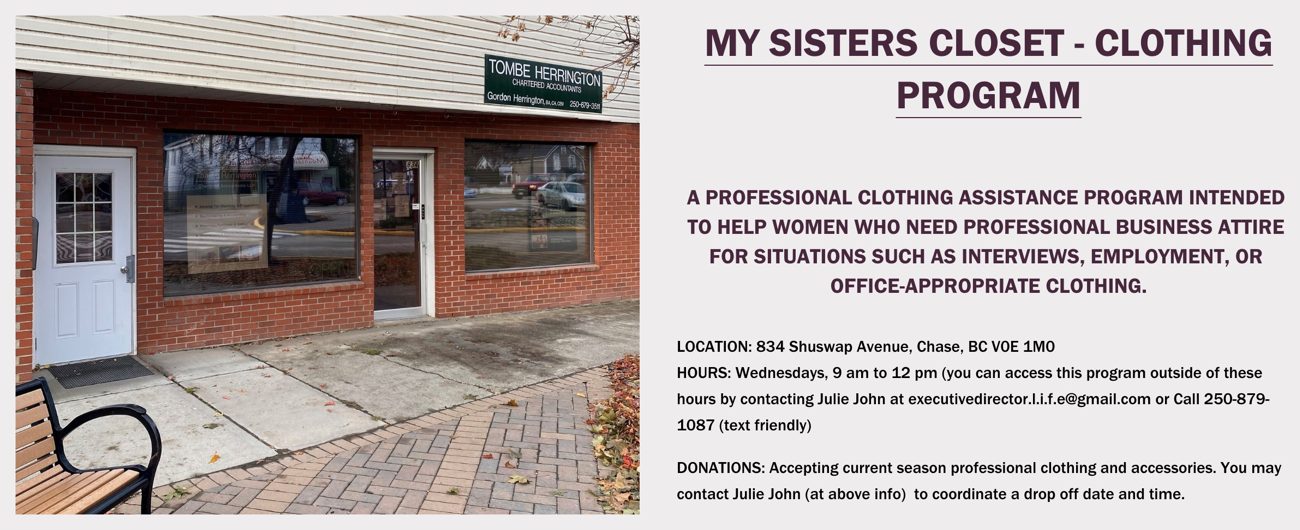 While Chase has cafes and restaurants, there aren't really any suitable spaces for small business owners to hang out and use the WiFi to conduct their business; a gap that Julie plans to fill with her hub. There will also be a meeting/conference room that can be rented out or used by the entrepreneurs, and her logo will appear big and bold in the window!
I know with Indigenous people, they feel more comfortable if it's an Indigenous person they're talking to, especially around vulnerable ideas and thoughts. It's different than going to a non-Indigenous person and sharing. So, having that cultural space, and to feel the culture when you walk in, that's one of my hopes, is that I can build a space where you walk in and you know it's an Indigenous business, an organization.
Julie is always attentive and open to further her learning as every contract and every event provide a learning opportunity.
Watch Video Clip 4 – Learning (Transcript Available) (CC BY-NC-ND 4.0):
While her services are intangible, Julie tries to include items that event participants can take home. For example, she included sage pouches at a TRU event that she planned and hosted. As with the suppliers she uses for the event planning, she also selects Indigenous gifts and authentic, meaningful keepsakes for her event items.